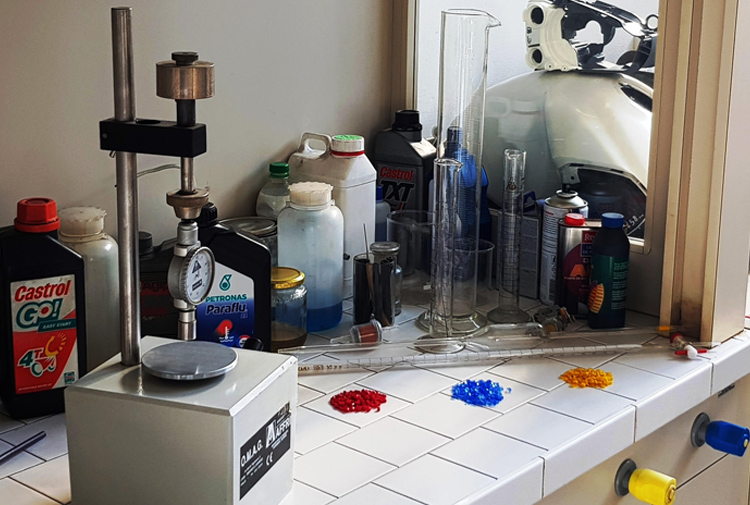 THE SECRET OF OUR SUCCESS
The availability of an in-house laboratory allows the production of compounds dedicated to customer's requests in terms of usage, mechanical/physical conditions, resistance to hydrocarbons/chimical agents, elasticity, hardness (ShoreA) and colour. Our R & D department draws together with the customer the best solution to meet all the technical requirements needed.
The trade names of our most famous registered materials in the market are:
COPOLAN – COPOLAN UML – GLAXAM – GLAXFLU – UREGLAX – STARENE – STARGOM – SIRFLON – PUR A70 – TPR PUR – PUR POP
All materials used do not contain hazardous substances listed in the SVHC prepared by the European Chemical Agency (ECHA).
Our operational and legal site is located in Pieve Emanuele, in the province of Milan.
We have a long experience in the production of thermoplastic hoses and in the production of FLAP® rim tape for the protection of inner tube or for tubeless wheels.
Since 1976 we have been operating in the vehicle sector, where we obtained the certifications from the major Italian and European manufacturers and the certifications of safety products.
We produce and assemble internally hoses, flap rim tape, profiles, tapes, strips and die-cut shapes, which are used in the most varied sectors.
The high-tech extrusion lines are automatically controlled by laser devices for the dimensional measurement of the product.
All products are marked STAREL in order to fulfill the requirements of warranty, identification and traceability, are customizable with the customer's name and can be supplied cut to size or rolled up.
All processes are carried out in our factory in Italy, this is the reason why we prefer to focus on excellence in quality rather than on large volumes.
STAREL
SINCE 1950 PROUDLY IN EXTRUSION OF TECHNOPOLYMERS